LETS GO TO THE BSA 2023 NATIONAL JAMBOREE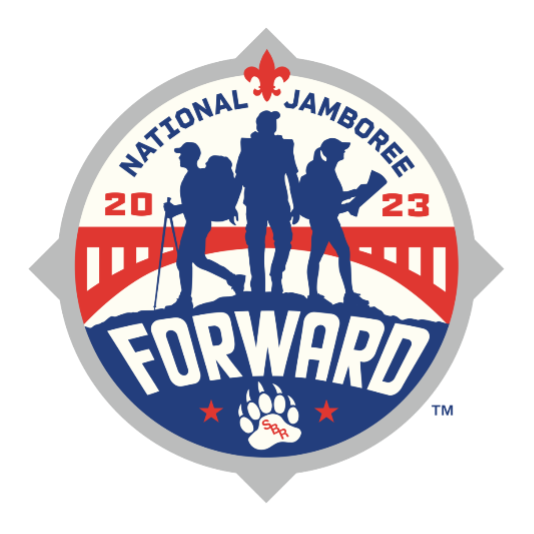 Lets go FORWARD with Muskingum Valley Council
When: July 19th – 28th, 2023
Where: The Summit Bechtel Reserve
Glen Jean, West Virginia
Estimated Cost: $1700
Contingency of 36 Youth
For more information, contact:
Cell/Text: 740-221-2615
INFORMATION FROM OUR SCOUTMASTER:
We wanted to share a few reminders, general information, and upcoming events for your Scout attending the 2023 National Jamboree.
The National Jamboree will be held at the Summit Bechtel Reserve in West Virginia from Wednesday, July 19 through Saturday, July 28.
Your Scout must be registered through the National Jamboree site. If you have not registered yet please use the link provided. 
https://events.scouting.org/form/B5925B571FB44195/personal-information
Payments for attending the National Jamboree can be made by visiting the Muskingum Valley Council Black Pug site. Payment details can be found at the site as well. Please follow the link to make payments. 
https://scoutingevent.com/467-2023NationalJamboree
The cost for the National Jamboree is $1,700.00. This includes the National fee, transportations and food, and gear.  Gear includes a day pack, duffle bag for packing, 2 Class B shirts, patches for Class A, Council patch sets to trade/keep, and use of a tent and cot. From the beginning, the staff has set a goal to raise money through local companies to help reduce the cost. We have already secured a $3,000.00 donation. All money raised will be divided evenly amongst everyone attending Jamboree. Once we have secured all donations a new total will be shared and we share how money will be refunded. Refund for this purpose refers to the money refunded to each attendee as a result of additional funds raised and not a refund if your Scout doesn't attend Jamboree.
Part of the Jamboree experience is building relationships with new Scouts in the Muskingum Valley Council prior to attending Jamboree. For this purpose we will have a variety of weekend and day events planned for those attending the Jamboree. All dates will be listed at the bottom of the email. We will discuss additional meeting dates and monthly Zoom check-in meetings during the Aug. 21 Parent/Scout Meeting.
Monthly Payments

This payment option is to pay $150 each month from April 2022 – February 2023, with a final payment of $50 in March 2023.
3 Payments

These payments will each be due the 1st of the month in July, December and March
July = $567
December = $567
March = $566
Full Payment

This one time payment of $1,700 will be due by July 1st, 2022.
If you can not pay the full amount by July 1st, please choose another payment option.
August 21, 2022 Parent and Scout meeting at Council office at 2:00 pm.
November 18-20, 2022  Weekend campout in Silver Beaver Cabins at MVSR
March 24-26, 2023 Wilderness Survival / First Aid Training at MVSR
May 13, 2023  Flint Ridge hike and Family Cookout
June 2-4, 2023 Hocking Hills Trip
July 19-28, 2023  National Jamboree @ Summit Bechtel Reserve
We realize this is a lot of information but we want to make sure that everyone is prepared! We are excited to share this once in a lifetime experience with your Scout!