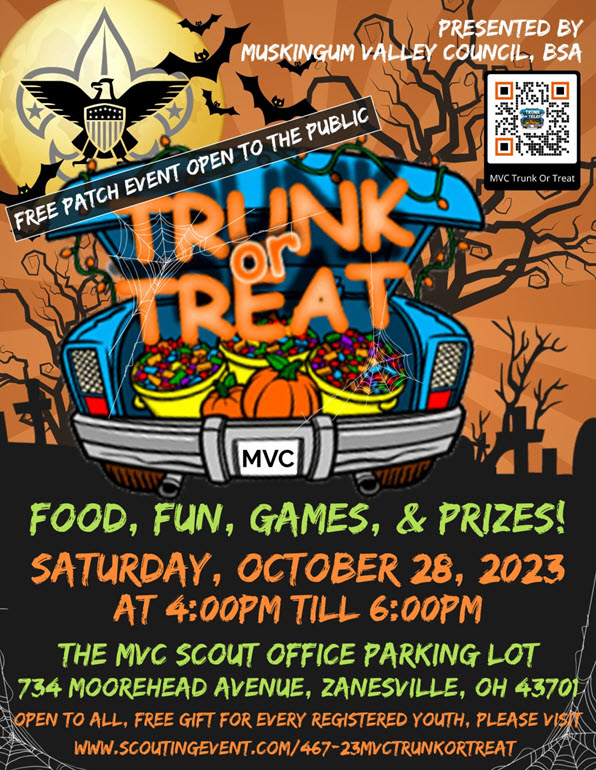 Muskingum Valley Council Truck or Treat
Date: October 28, 2023 (4 – 6 PM)
Location: Muskingum Valley Council Service Center
Cost: FREE
PLEASE SHARE! EVERYONE IS WELCOME
Muskingum Valley Council, BSA is pleased to announce that we will be holding our very first Trunk or Treat at our Zanesville Office, 734 Moorehead Ave, Zanesville on Saturday October 28, 2023 from 4-6. We would like to invite you to participate as well. It will be free for you to set up a trunk, shelter (provide your own) or table. Please call us at 740-453-0571 to reserve your spot. We will have locations for vehicles and shelter areas, both of which should be appropriately decorated for young children, please let us know if you will be bringing a pop up or decorating a vehicle. Various prizes and awards will be presented based on costumes, decorations and unit participation. All youth are welcome and this is a completely free event. Youth that pre-register will receive a free gift as a thank you from the council.
Event Highlights:
Trunk or Treating in a safe, family friendly environment. Free food, prizes and patches. There will be a table set up for anyone who would like to talk about scouting or want to join. Blow up archery range and BB Gun range as well. The scout shop will be open during the event as well.
Registration:
This can be done on either on the website or by using the QR code on the flyer. If you would like to set up a truck, shelter(provided by you), or a table follow the QR code as well. Please keep themes that are Scouter or Elementary appropriate.
Questions, please reach out to Joanna or Elaine at the Scout office 740-453-0571
email: joanna.burchett@scouting.org or elaine.shoemaker@scouting.org