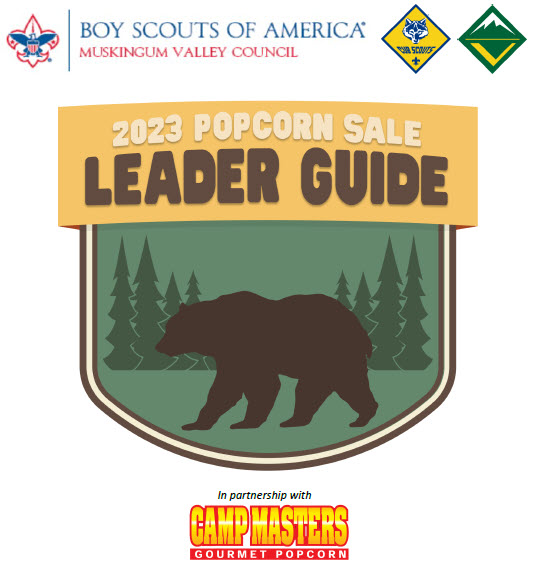 Key Contact Info
Council Support
2023 Popcorn Sale Timeline
August 1 — Deadline to commit to sale on Camp Masters website for incentive
August 3 — River Trails District Kickoff @ Wolf Run Pavilion in Belle Valley, 6:30pm
August 6 — Zane Trace District Kickoff @ Council Office (734 Moore-head Ave) in Zanesville, 3:00pm
August 14 — Show & Sell Orders DUE on Camp Masters by 11:59pm
August 16 — Arrowhead District Kickoff @ Warsaw Community Park Pavilion, 5:30pm
August 25 — Show & Sell sorting, 9:00am—if interested in helping, contact Charlotte Ashcraft
August 26 — Show & Sell distribution, 9:00am to 11:00am
August 26 — SALES MAY BEGIN
During the popcorn sale, please share when/where your unit is selling each weekend with Brian Botti so we can share the info with our community and help drive your sales! Please share by Wednesday at noon each week.
October 30/31 — Show & Sell payments DUE, last call for Show & Sell returns, Take Order orders due on Camp Masters website
November 17 — Take Order sorting, 9:00am—if interested in helping, contact Charlotte Ashcraft
November 18 — Take Order payments due, Take Order distribution 9:00am to 11:00am
January 6 — Top Sellers Recognition Event, details TBA
Unit Commission Structure
We're doing a la carte style in 2023 — Incentives below do not carry prerequisite incentives aside from the base "Sell Popcorn"
Sell Popcorn (base) — 28%
Pick up and pay by November 18 at noon — 1%
Have a unit representative at District Kickoff — 1%
Identify unit Popcorn Kernel and commit to sale on Camp Masters website by August 1 — 1%
Sell average of $600 per Scout (as of June 30 membership) OR grow 2022's sales by 10% or more — 2%
Pay in full for Show & Sell and for Take Order by October 31 — 1%
No Show & Sell returns — 2%
Note on Commissions in 2023: Unless otherwise requested, commissions will be taken out of what payment's due for total sales. For example, if a unit's total sales comes to $5000 and the unit has earned a 35% commission, the unit will only owe a total of $3250 back to council. This passes the savings back to the unit in a simple, efficient, and practical way.
Click here to download the full Popcorn Leaders Guide 2023