Jamboree Adventures: Troop 4324 Thrives in Exploration and Knowledge!
Wednesday, July 25th, 2023
As the Boy Scouts of America National Jamboree continues to unfold, Muskingum Valley Council, Troop 4324, remains steadfast in their pursuit of adventure and learning. The scouts have been making the most of their time at The Summit Bechtel Reserve, engaging in a multitude of activities that have expanded their horizons and tested their skills.
Tuesday saw the scouts traversing all over the Summit, accompanied by their parents and guests, as they proudly showed them around the vibrant Jamboree grounds. Meanwhile, others took the opportunity to earn the NOVA award, a prestigious recognition that signifies their commitment to science, technology, engineering, and mathematics (STEM) exploration. Riding the Gateway Zip provided an unforgettable bird's-eye view of the Scott Summit Center, allowing them to soar high above the bustling activity below.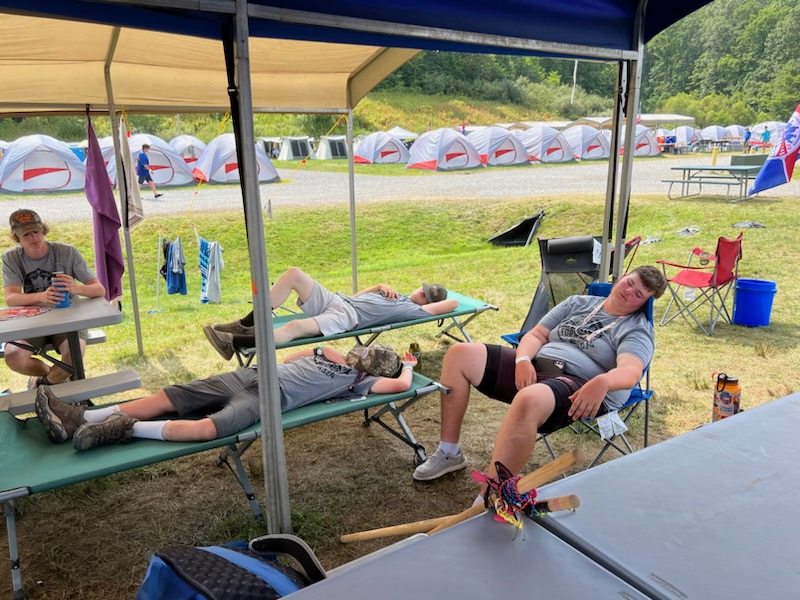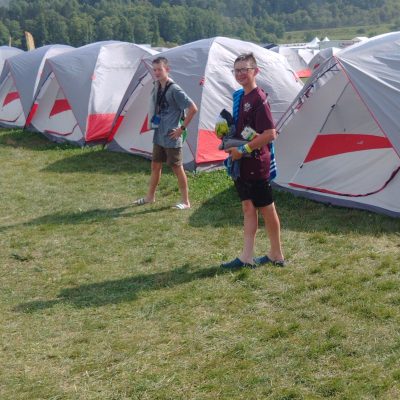 Now, on the seventh day of their Jamboree adventure, Troop 4324 is starting to feel the effects of their exhilarating activities. The spirit remains unwavering, but the scouts have been keeping up a relentless pace, pushing their limits to make the most of every opportunity the Jamboree offers.
Senior Patrol Leader Matthew C. captured the essence of Troop 4324's determination, stating, "Troop 4324 doesn't do it because it's easy, we do it because we all thought it was easy! It was an honor to help lead 5 scouts this afternoon, finishing the Jamboree NOVA award today. Our troop is really looking forward to getting out on the New River Gorge Thursday for our rafting trip!" With such resolute leadership and an unwavering team spirit, the scouts are equipped to overcome any challenge that comes their way.
One of the standout activities that has contributed to their NOVA award progress is the STEM Quest exhibit area in the Summit Center. The scouts explored at least five different booths, engaging with staff members and actively participating in discussions that expanded their knowledge in various fields of science, technology, engineering, and mathematics.
The Jamboree NOVA award requirements have been guiding Troop 4324 in their pursuit of knowledge and exploration. Under the four categories of science, technology, engineering, and mathematics, the scouts have been undertaking various tasks to deepen their understanding of the world around them.
From identifying constellations in the night sky, learning about alternative energy sources, and exploring the engineering behind the CONSOL Energy Wing Tip Bridge to demonstrating the use of math to improve accuracy in shooting a gun or bow, the scouts have been fully immersed in the learning process.
Through these experiences, Troop 4324 is developing a greater appreciation for the significance of sustainability and conservation efforts. Their understanding of engineering principles has grown, and they are discovering innovative ways technology enhances everyday life.
As the Jamboree journey continues, Troop 4324 looks forward to their rafting trip on the New River Gorge, an exciting and challenging experience that will further strengthen their camaraderie and teamwork.
Stay tuned for more updates on Troop 4324's Jamboree Adventures as they continue to embrace every opportunity for growth and learning, leaving a lasting impact on their scouting journey.
Author's Note: Stay connected with Troop 4324's remarkable journey and follow their experiences at the National Jamboree on our Facebook https://www.facebook.com/MuskingumValleyCouncil/