Spooktacular Success: A Recap of Muskingum Valley Council's First Trunk or Treat Event
The Muskingum Valley Council, BSA recently hosted its inaugural Trunk or Treat event at the Zanesville Office, marking a thrilling and successful celebration on Saturday, October 28, 2023. Despite the drizzly weather, the atmosphere was vibrant with joy, excitement, and Halloween spirit.
Families and participants were treated to a delightful evening filled with candy galore, hot dogs, and engaging activities such as archery and BB guns. The presence of Baldy the Eagle, interacting with Scouts, added a special touch to the event, leaving lasting memories for all who attended.
One of the highlights of the event was the creativity displayed in the various trunk displays and shelter areas. The Candy Land-themed decoration emerged victorious, claiming the coveted People's Choice Trunk Award. The dedication and effort put into these displays were truly commendable, creating a festive and immersive experience for the young attendees.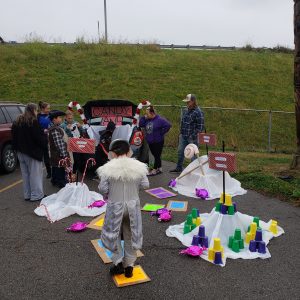 What made the event even more special was the overwhelming participation and enthusiasm from the community. Families, scout units, and individuals came together to create a safe and enjoyable environment for the children, ensuring a memorable and fun-filled Halloween celebration.
The Trunk or Treat event also offered a platform for fostering community engagement and bonding. It provided an opportunity for individuals and organizations to come together, showcasing their inventive decorations and costumes while enjoying the festivities as a collective whole.
Notably, the Muskingum Valley Council, BSA extended a warm invitation to all youth, emphasizing an inclusive and free-of-charge event. Moreover, those who pre-registered received a special token of appreciation, a free gift as a thank you from the council.
With various prizes and awards given based on costumes and decorations, the event was not only a source of enjoyment but also a space for recognizing and celebrating the creative efforts of the participants.
The success of the event was a testament to the spirit of camaraderie and community engagement fostered by the Muskingum Valley Council, BSA. It reinforced the commitment to creating engaging, safe, and entertaining experiences for the youth and the community at large.
As the event concluded, it left behind cherished memories and a sense of togetherness that will resonate within the Muskingum Valley community for a long time to come. The Trunk or Treat event of 2023 was a resounding success, marking the beginning of a new and exciting tradition for the Council and the local community.
Stay tuned for future events and initiatives by the Muskingum Valley Council, BSA, as they continue their dedication to creating memorable experiences and opportunities for the youth and the community.